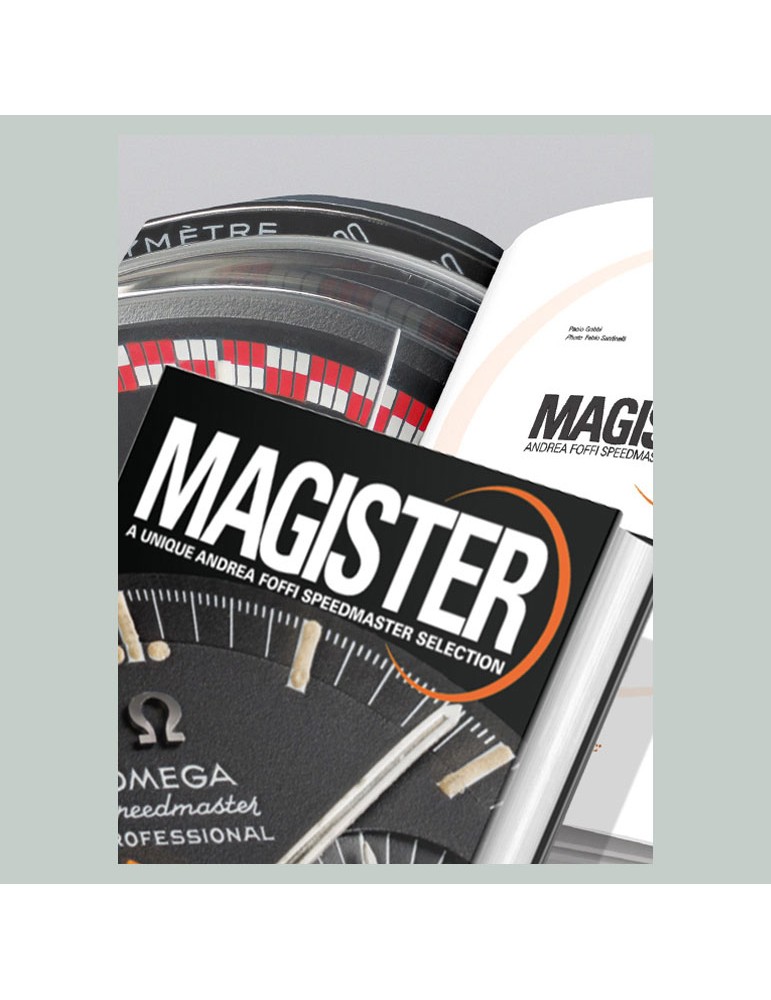  
Magister - a unique Andrea Foffi Speedmaster Selection
By Andrea Foffi and Paolo Gobbi
The Omega Speedmaster, the incomparable iconic sports chronograph and increasingly desired by collectors is the undisputed protagonist of this one-of-a-kind book.
Andrea Foffi's goal is to describe the model that embodies the turbulent path of contemporary chronography. From simple timepieces to sought-after objects of desire, from expensive purchase to profitable investment, the Omega Speedmaster is the leading character of MAGISTER.
And that is how we have to look at it: we do not hunt for specific functions but we discover the slow and uninterrupted movement of a story. A watch that outlines the change of designs and technologies, in a steady search for a thrill. 
Inside the work it will be possible to discover the most relevant pieces of one of the most complete collections in the world, the one created by Andrea Foffi in two decades of work and research.
The outcomes are extraordinary timekeepers for their infrequency and value, which confirm the collecting relevance of the Speedy raising the bar of its desirability. The high standard of the work is guaranteed by Fabio Santinelli and Paolo Gobbi. All these professionals make MAGISTER an exclusive publication.
Number of pages

416

Height (cm)

33

Width (cm)

24

Illustrations

370 ill.

Book Binding

hardcover

Language

English
WORLDWIDE SHIPPING - Watchprint.com delivers books throughout the world.

SECURE SHOPPING - Safe, Easy and Secure Online Payments with SSL Certificates.

CONTACT US - Contact us to build up your watchmaking library or any other question: info@watchprint.com