WatchPrint - 20 Years
---
In 2001 we created Watchprint.com, the first online bookshop dedicated to watchmaking and jewelery. The following year we began organising the Baselworld and SIHH event-based bookshops. And since watchmaking is firmly export-oriented, we also travel to meet aficionados at specialised shows in New York, Paris, London and Hong Kong.
This ongoing closeness with passionate watchmaking enthusiasts has enabled us to understand their needs and wishes, as well as leading us to broaden our scope of activity from the role of bookseller to publisher. Through parnterships with watch collectors and publishing professionals, the books we publish are now distributed in bookstores across more than one hundreds countries. But only on our website you will find all our publications as well as dozens of others related to watchmaking and jewelery.
Mechanical watchmaking needs stories to delight connoisseurs and Watchprint serves to pass them on.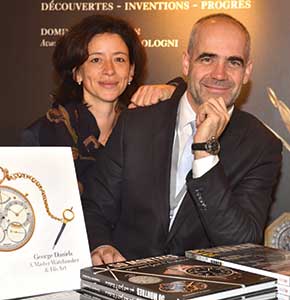 Watchprint: our bookshops
Event-based bookshops:
Baselworld, SIHH
Other event-based bookshops (Bruxelles, Geneva, Hong Kong, Londres, Luxembourg, Paris, New York, Zurich)
Permanent bookshops:
Musée de l'Horlogerie du Locle, Château des Monts
La maison de l'Horlogerie, Geneva
Watchprint, La Croix-sur-Lutry
Watches of Switzerland, New-York
Collaboration with online bookstores and magazines:
Montres Magazine, Europa Star, Revolution
Worldtempus, The Naked Watchmaker.
Watchprint: watch book publisher
A network of journalists, writers and translators
Layout design
20 years of experience
Impeccable production quality
Physical presence at the major watch industry events
Online sales via watchprint.com and several partner websites
An international network of distributors and bookstores
An international clientele of collectors in more than 100 countries