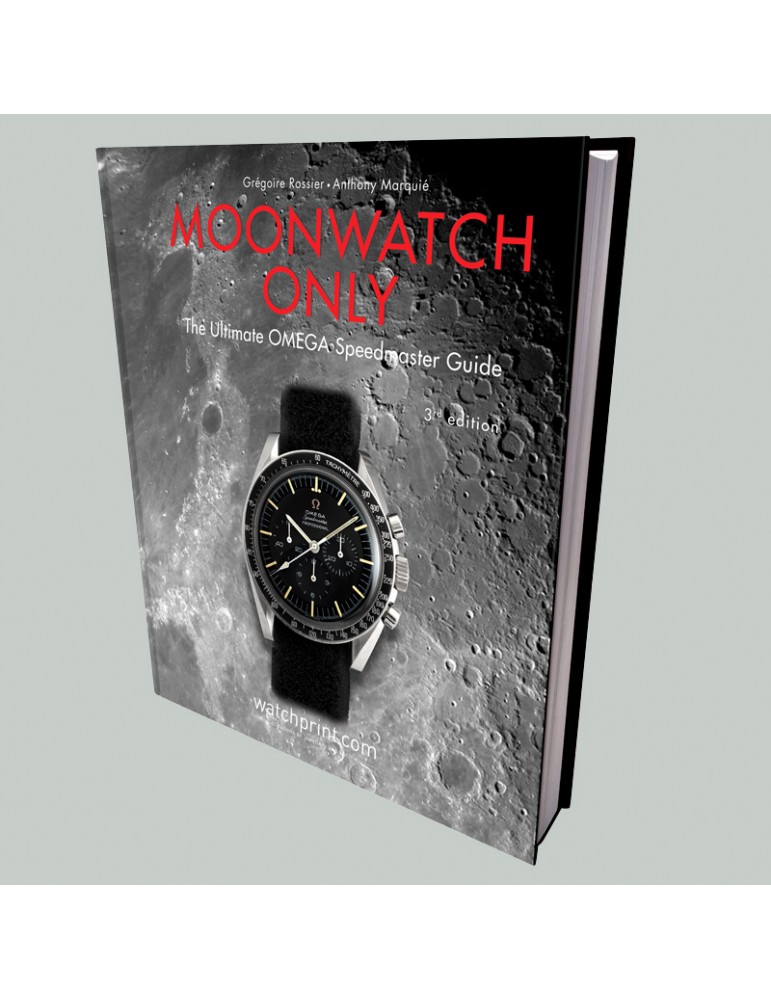  
Moonwatch Only The Ultimate OMEGA Speedmaster Guide, 3rd edition
By Grégoire Rossier and Anthony Marquié
3rd revised and expanded edition with:
- 32 additional pages 
- A new 16-page gallery of astronauts' and their Speedmaster
- 17 new Speedmasters
- A new detailed story of a vintage Speedmaster
- More than 120 new pictures and about 50 pictures improved
- Text corrections and additions
- Models serial range and popularity index updated
- Many QR codes to extend your exploration
Why a Collector's Guide?
The Speedmaster is a timeless watch icon that has significantly evolved since its creation in 1957, a fact that sometimes makes it hard to identify certain models, particularly older ones. After several years of research and observation, the authors have created a technical, systematically and attractive book intended to become the reference work for this model.
An Original Approach
The major focus of this work concerns the identification of historical Speedmaster models from standard production, in an era when there were often variations in the constituent parts of a watch.
Having observed that these numerous evolutions could occur independently of a change in reference number, the authors established an original nomenclature for this entire set of elements. Classifying and describing them represented a fundamental prior step toward providing a comprehensive and detailed presentation of the models.
ISBN 9782940506309
Shipping offered worldwide
TESTIMONIALS MOONWATCH ONLY
"For me, this book thoroughly earns its designation as the ultimate guide to the Omega Speedmaster, and I will refer to it with pleasure for any and all Speedmaster questions I may have from now on. If you are considering purchasing this compendium as a gift or for yourself, I can recommend it wholeheartedly."
Elizabeth Doerr, Quill & Pad
"The Number 1 Speedmaster Resource. A superb book that goes into detail on everything Moonwatch."
Speedywatches.com
"It's an indescribable reference work and a true must-have for every Speedmaster collector."
Forbes
"Moonwatch Only, absolutely the finest guide to Speedmaster on the planet." 
Hodinkee
"This book sets a new standard. Not only for books on the Omega Speedmaster, but for watch books in general. I've never seen anything like it, and believe be when I tell you that I could fill an impressive sized wall with books on watches..."
FratelloWatches
"Acutally, it is a true bible since it is made of around 500 pages full of information and technical data. But what I appreciated the most by browsing the book was its clever and sound organization"
PuristPro
Number of pages

598

Height (cm)

30.7

Width (cm)

25

Illustrations

more than 1000 ill.

Book Binding

hardcover

Language

English

Watchprint Article Number

11162
Look inside the book
WORLDWIDE SHIPPING - Watchprint.com delivers books throughout the world.

SECURE SHOPPING - Safe, Easy and Secure Online Payments with SSL Certificates.

CONTACT US - Contact us to build up your watchmaking library or any other question: info@watchprint.com