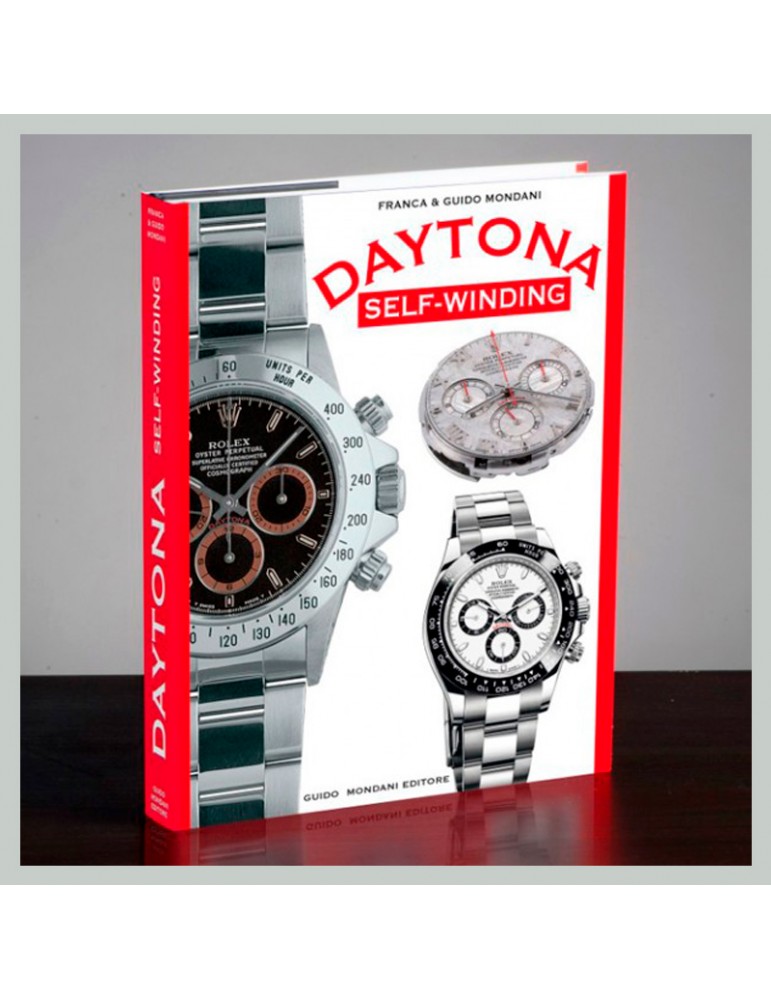  
Rolex Daytona Self-Winding
Book in English/Italian
The Rolex Daytona Self Winding Book is the most complete and detailed edition of these watches.
With 320 pages of completely new content, the authors begin their journey in 1988 with reference 16520. Just for this model, you will find 12 different dials, illustrated and described in great detail.
As a result of this long and thorough review of all references featuring a Zenith movement, 14 different types of dials from ref. 116520 are illustrated and described in great detail, including the "chromalight", "cream" and "APH" versions, to name just a few examples.
In this edition, you will find unique pieces and very rare prototypes, as well as custom watches and special dials.
Technical characteristics and examination of all parts of the watch (movements, dials, dials, dials, dials, housings, hands, indexes, pushers, winding crowns, bracelets and much more).
Particular attention is given to the differences between dials and glasses: these small features have a major influence on the value of a watch.
This book focuses on Daytona's most sought-after "Cerachrom", illustrates the NOS models, complete with their box and warranty, and gives information on how a watch should look like at the time of purchase today. This information will be very useful, considering all the non-original models on the market.
In addition, you will find a description of all the latest models of the Oysterflex, racing dials, Daytona Beach, Meteorite, Everose, Plato, Rainbow and many others.
This book also provides a list of dials that can be adapted to each reference and alphanumeric codes on the wristband clips.
This very useful reference index will help you easily find the watch you are looking for. The "Rolex Daytona Self-winding" edition comes with a booklet with up-to-date ratings of all watches issued, depending on their condition.
List of published references:
16518, 16519, 16520, 16523, 16528, 16559SACO, 16568, 16568EMRO, 16588 SAFU, 16589 Bril, 16589 RUBI, 16589 SAPH, 16598 EMRO, 16599 RUBI, 16599 SAPH, 116500LN, 116503, 116505, 116506, 116508, 116509, 116515LN, 116518, 116518LN, 116519, 116519LN, 116520, 116523, 116528, 116568, 116576TBR, 116588 TBR, 116589 BRIL, 116589 RBR, 116589 SACI, 116589 SALV, 116595RBOW, 116596RBOW, 116598 SACO, 116599 4RU, 116599 12SA, 116599 RBOW, 116599 RBR, 116599 TBR
Number of pages

320

Height (cm)

31.5

Width (cm)

25.5

Book Binding

Hardcover

Language

English / Italian

Watchprint Article Number

11044
WORLDWIDE SHIPPING - Watchprint.com delivers books throughout the world.

SECURE SHOPPING - Safe, Easy and Secure Online Payments with SSL Certificates.

CONTACT US - Contact us to build up your watchmaking library or any other question: info@watchprint.com