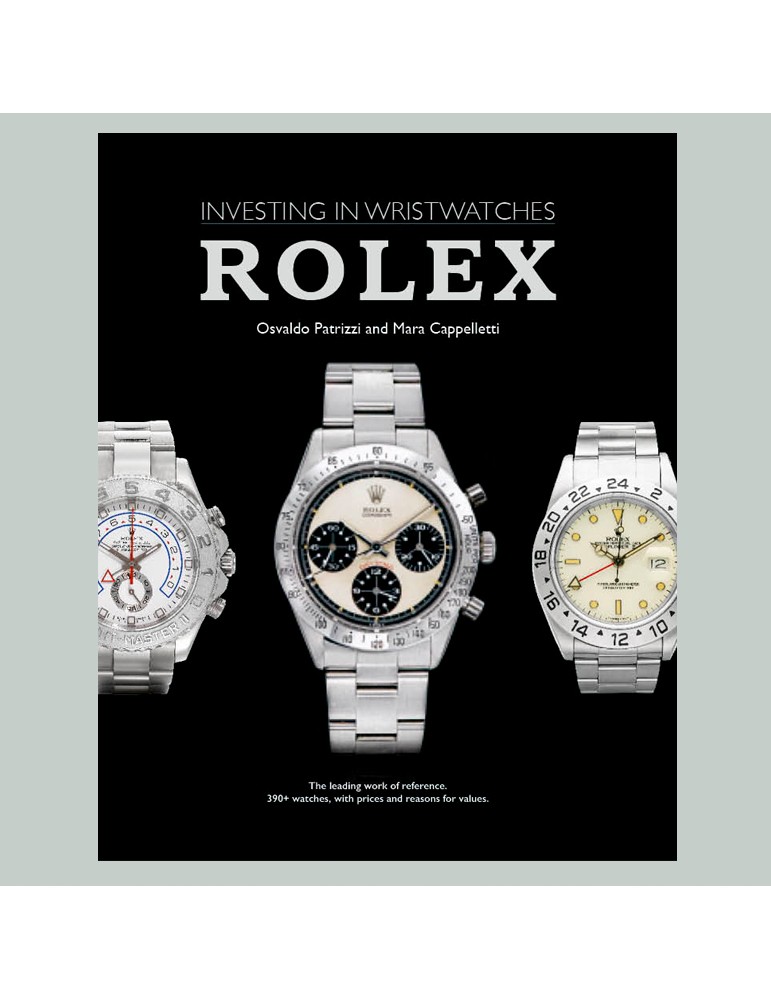  
Investing in wristwatches: Rolex
The leading work of reference. 390+ watches, with prices and reasons for values.
By Osvaldo Patrizzi and Mara Cappelletti
English version Click here for the French edition of this title
The important new reference work for all Rolex aficionados and collectors
Vintage Rolex wristwatches command ever higher prices at auction and their popularity only continues to grow. 
What makes them so special and such a firm favourite with collectors? For some, it is a pursuit of pure passion – those  who appreciate the wristwatch as an artform: the intricacy of its mechanics, the finesse of its form. Yet, for others,  collecting is an investment and a watch's value is as important as its appearance.
All collectors ought to have a guide to models and market value.
This important reference book illustrates over 390 watches, including the majority of key Rolex references with analysis  of details and prices realised at auction. The timepieces featured have been carefully selected by leading horological  expert, Osvaldo Patrizzi for a diverse range of reasons, including technical excellence, auction records, design and  anecdotal history. Compiling these watches together, grouped by reference number, allows for comparative analysis  of auction results, showing the evolution of prices over time, from the 1980s to the present day.
Investing in Wristwatches: Rolex offers a detailed insight into the world of authenticating and pricing high-value  wristwatches, essential to collectors from amateur to connoisseur.
ISBN: 9781788841245
Number of pages

320

Height (cm)

30

Width (cm)

23.7

Illustrations

440 color ill.

Book Binding

hardcover

Language

French
WORLDWIDE SHIPPING - Watchprint.com delivers books throughout the world.

SECURE SHOPPING - Safe, Easy and Secure Online Payments with SSL Certificates.

CONTACT US - Contact us to build up your watchmaking library or any other question: info@watchprint.com