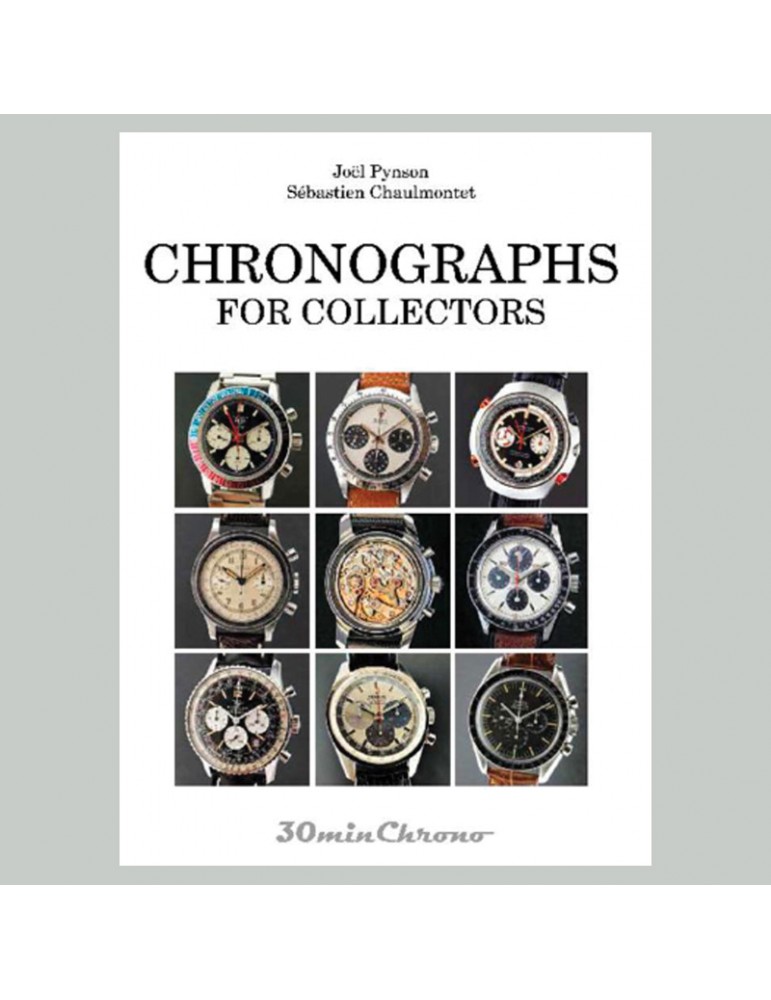  
Chronographs for Collectors
By Joël Pynson and Sébastien Chaulmontet
English version Link to the French edition of this title
Chronographs for Collectors is an original reference work that traces the history of chronographs which have made their mark on the 20th century. In the course of 30 detailed chapters, and lavishly illustrated with 450 previously unpublished photographs, the watches are described in detail, compared and evaluated.
Legendary chronographs such as the Omega Speedmaster, Heuer Carrera, Rolex Daytona, Longines 13 ZN, Universal Tri-Compax, Breitling Navitimer, Zénith El Primero and more can be found between its covers together with their principal variants. And there are numerous other, often overlooked, classics: for example the Mido Multi-Centerchrono, Minerva 13/20, Excelsior Park 4, Index-Mobile of Dubey & Schaldenbrand, Eberhard Contodat, Enicar Jet Graph and many others. You can even find details about those rare pearls such as the Invicta Chrono-Sport, Blancpain Air Command and Angélus Chrono-Datoluxe.
The work gives the amateur the chance to discover all the richness and variety of collectable chronographs. To the expert collector it gives valuable advice that will refine their knowledge and lead to pastures new.
It has taken no less than two doctors to bring this enterprise to fruition and it has been more
than three years in the making.
- Joël Pynson, a doctor of medicine and ophthalmologist, is a specialist in chronograph history. He has written numerous articles on the subject in the specialist press and he is
the author of the reference work Le Chronographe de poche Suisse.
- Sébastien Chaulmontet, a doctor of law and lawyer, is today one of the most gifted creators of watch movements of his generation. He is also an expert collector whose opinion is a force to be reckoned with.
Number of pages

232

Height (cm)

28

Width (cm)

24

Illustrations

450 color ill.

Book Binding

hardcover

Language

English

Watchprint Article Number

11123
WORLDWIDE SHIPPING - Watchprint.com delivers books throughout the world.

SECURE SHOPPING - Safe, Easy and Secure Online Payments with SSL Certificates.

CONTACT US - Contact us to build up your watchmaking library or any other question: info@watchprint.com