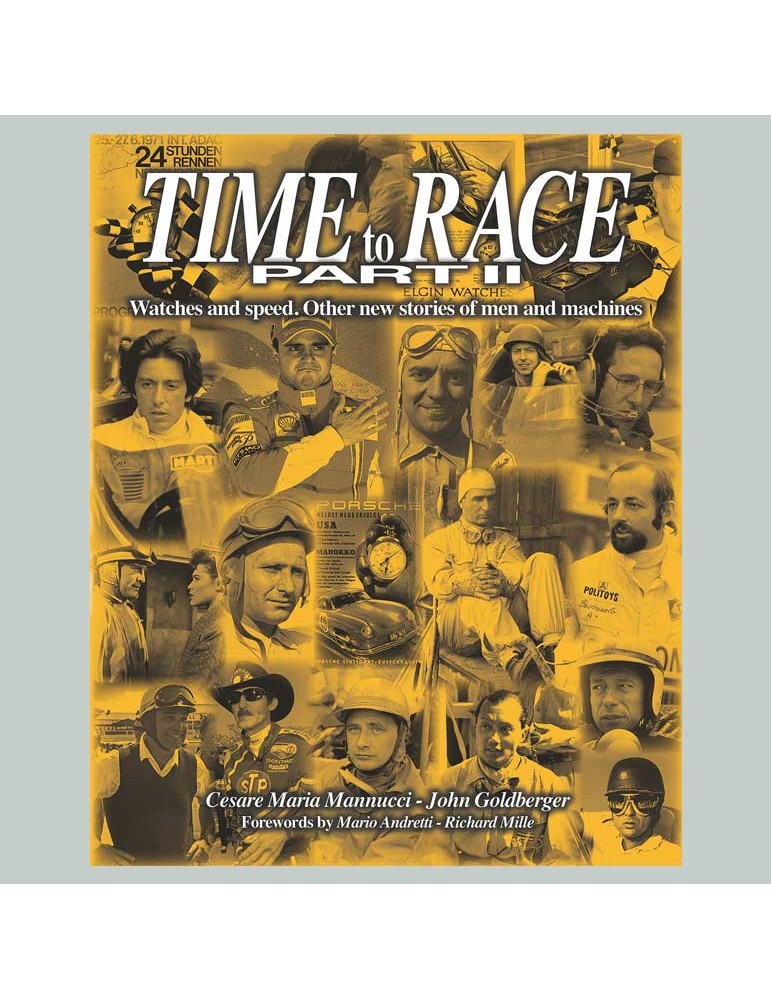  
Time to Race II. Watches and Speed. Other new Stories of Men and Machines
Par Cesare Maria Mannucci et John Goldberger
Livre en anglais
The journey of Cesare Maria Mannucci and John Goldberger continues in the world of racing drivers and watches. Two and a half years after the release of the Time to Race book, here comes Time to Race part II: 550 pages, 4 chapters dedicated to the great personalities of the racing world and their watches, to circuits and great road races, a chapter dedicated to the watches of the actors worn during the production of films set in the world of racing, and finally a chapter dedicated to other watch manufacturers involved in the world of racing. With authoritative prefaces by Mario Andretti and Richard Mille.
Time to Race part 2 is another book, completely different from Time to Race. Because the journey through history that unites races, drivers and watches necessarily had to be completed. An intense work, an obsessive research, which this time involved all types of watches. From the pocket ones of long-lost and forgotten champions, such as Ugo Sivocci or Joe Dawson. Or the chronographs used in the Gordon Bennet Cup, objects now more than a century away. Or the stopwatches, often caressed by the female hands of the drivers' companions, when Sally Stokes, Margherita Bandini or Alice Caracciola were the reference for teams such as Lotus, Ferrari and Mercedes. Over one hundred personalities, with the watches of Juan Manuel Fangio, Henri Pescarolo, Hans Hermann, Prince Bira, Jean Todt, Bernd Rosemeyer and many other champions who have made the history of racing, through a historical and sporting period of over one hundred years.
Mannucci and Goldberger, this time decided to widen the field as much as possible, from the repeating pocket watches of the early 1900s, with the gold case and the enameled ceramic dial; to the most modern and lightest Tourbillons produced by Richard Mille, always keeping as a reference the common denominator of motor racing.
In 2021, the figures reached by watches belonging to Paul Newman and Steve McQueen caused a sensation at major international auctions. Inspired by this interest, taken up by the media worldwide, the idea was born to create a special chapter to show the watches worn by the actors and appeared in movies set in the world of racing. Not only Grand Pix or Le Mans, not only Steve McQueen or James Garner, but also many movies productions from the 30s to the 70s, because even superstars such as Kirk Douglas, James Cagney, Clark Gable or Al Pacino, have played the role of the racing drivers.
For those who have appreciated the Time to Race book, Time to Race part II represents the natural completion of a topic, that of racing and watches that has been truly analyzed in all aspects thanks to the expertise and experience of the two authors
Nombre de pages

496

Hauteur (cm)

31

Largeur (cm)

25

Illustrations

1500 photos

Reliure

relié

Langue

Anglais
LIVRAISON INTERNATIONALE - Watchprint.com envoie des livres à travers le monde.

PAIEMENT SÉCURISÉ - Paiement facile et sécurisé grâce au protocol SSL.

CONTACTEZ-NOUS - Contactez-nous pour la création de votre bibliothèque horlogère ou tout autre question : info@watchprint.com