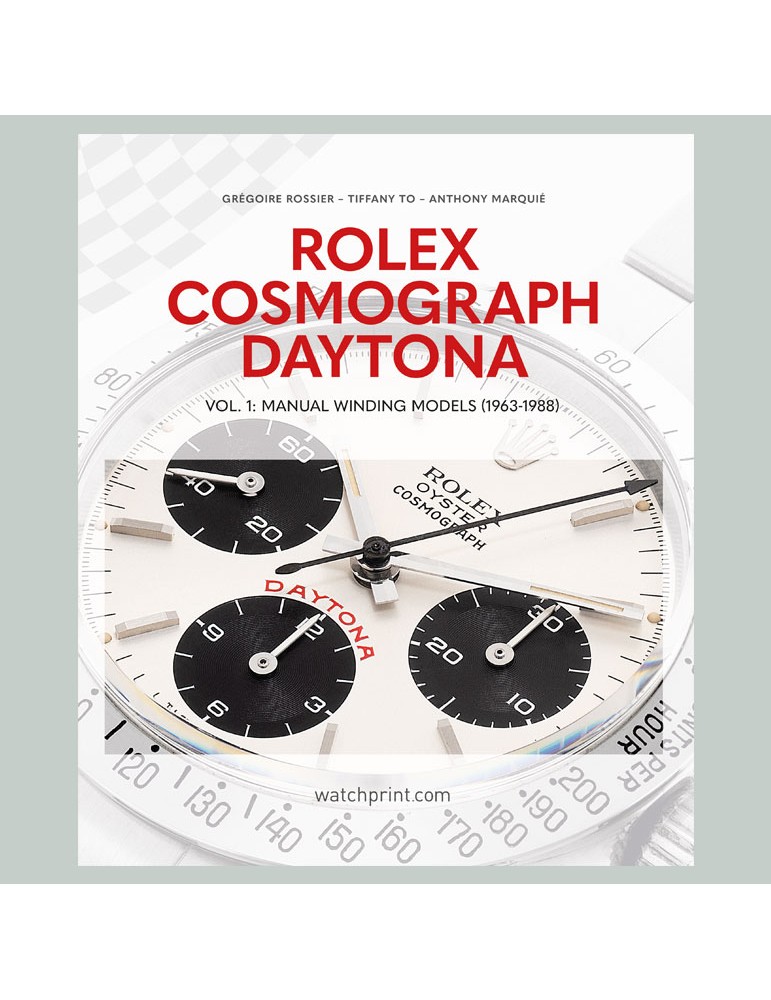  
Rolex Cosmograph Daytona
Vol. 1: Manual Winding Models (1963-1988)
by Grégoire Rossier, Tiffany To and Anthony Marquié
English Version Click here for the French edition
COSMOGRAPH DAYTONA… a legendary name among the watch aficionados, one that conjures up montages of speed, engines and sound, but also synonym of prestige and admiration. The origin of the myth is linked to a city in Florida, named Daytona Beach, famous for its motorcycle and automobile races on the beach. In 1959, the Daytona 500 race was born and three year later, Rolex became the official timekeeper of the Daytona International Speedway – hence, the start of the story of the legendary "Cosmograph Daytona".
The chronograph complication and the history of Rolex have always been inextricably linked. Rolex's first foray into measuring time began already in the 1930s with the manufacture's very first Oyster chronograph model. In 1963, Rolex launched the Cosmograph Daytona, a sports chronograph that has never stopped to evolve, respecting the spirit of the brand, which has always strived to improve existing technology, always pushing the boundaries of what is technically possible.
The history and diversity of this chronograph is such that two (independent) volumes have been devoted to it. This first volume is dedicated to hand-wound Daytonas, manufactured between 1963 and 1988, and is a celebration to its illustrious history, forged by many people, but if we had to keep just one it would definitely be Paul Newman.
ISBN 978-2-940506-53-8
Publication Date: Mid October 2023
Number of pages

288

Height (cm)

23.8

Width (cm)

26

Illustrations

351 color ill.

Book Binding

hardcover

Language

English

Watchprint Article Number

9782940506538
WORLDWIDE SHIPPING - Watchprint.com delivers books throughout the world.

SECURE SHOPPING - Safe, Easy and Secure Online Payments with SSL Certificates.

CONTACT US - Contact us to build up your watchmaking library or any other question: info@watchprint.com