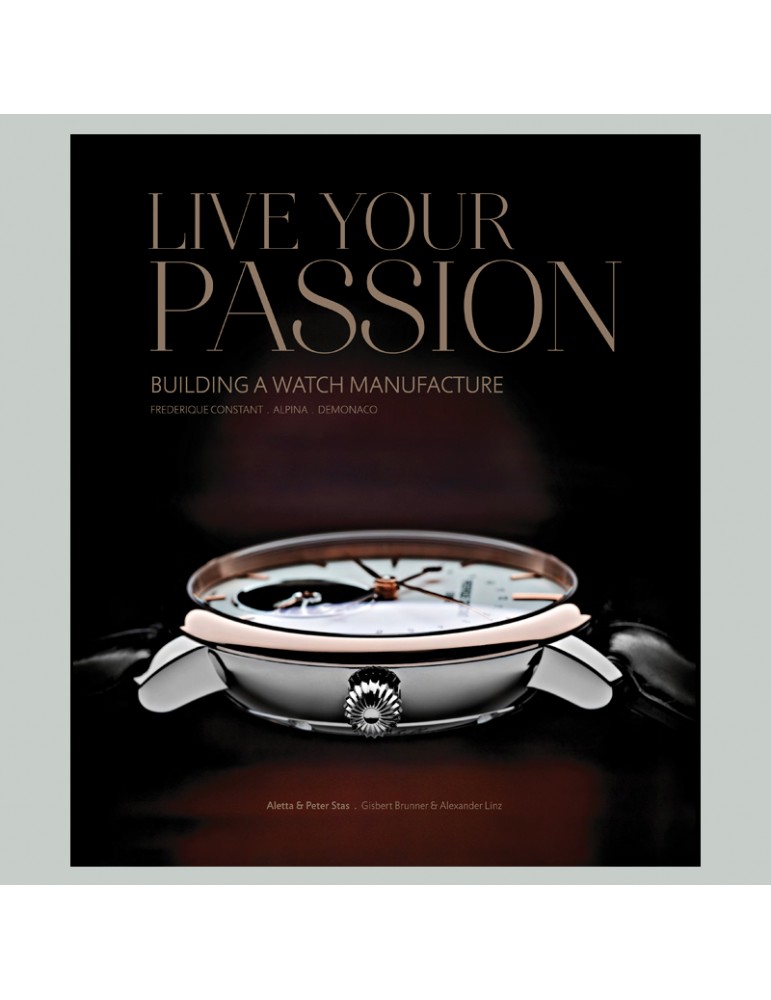  
Live your passion - Building a watch manufacture. Frédérique Constant, Alpina, Demonaco 
Von Aletta und Peter Stas, Gisbert Brunner und Alexander Linz
Buch zweisprachig englisch/deutsch
The idea for this book started during a seminar on the "Rockerfeller Habits" in Amsterdam, where we attended with the Management Team of our company. In the past years, various people - journalists, customers, suppliers, industry colleagues - had suggested to write a book about our passion and the history of Frederique Constant. It was the suggestion of the members of our Management Team that made us think more seriously about the idea. 
The primary purpose initially was to create a book as a publicity vehicle for potential customers and new employees. To explain how and why the company came into this world. There is certainly also an ambition to leave some kind of a legacy, to leave behind a "rule book" on what we envision as the long-term culture of the company. That it may serve as a motivation for those working with us to continue to grow Frederique Constant, Alpina and Atelier deMonaco. Last but not least, this book's intention is also to show our children more in-depth what their parents have been spending so much time on in the past twenty years.
We learned from the YPO workshop "Write That Book", that it takes over thousand hours to develop and finish a book manuscript. Considering the time we were spending already on work, this hardly sounded like an appealing proposition. The book idea was officially postponed to a later date when we would have more time. Still, the temptation to write something more comprehensive remained. Writing press articles and blog entries did relieve some pressure, but it was never enough. So, quietly we began to develop a book outline. With the help of Gisbert Brunner and Alexander Linz, we were able to structure scattered thoughts and information.
This book is a mix between a "Coffee Table Book" and "Business Book". You will find ample text on the business aspects of the company, our Purpose "Let more people enjoy luxury" and the company Core Values. You will also find plenty of photos and images that tell the story of the creation of watch calibers, models and their manufacturing. Most important however is the story of the people in the company, the customers and the suppliers. We are very grateful to have been able to work with many excellent people during the past twenty years. Without them, the company would never have been possible. 
The next pages will start with an in-depth explanation of the "Accessible Luxury" concept that has been the basis of the creation of Frederique Constant over twenty years ago. We will explain many details and specific anecdotes in the following chapters in interview format. Each company Core Value is described later including an interview with colleagues for the respective value. 
We have often been asked the reason for the success of our company: "Tell me, what is the single most important success factor?" Unfortunately, or fortunately, there is not one answer. It has been the combination of many factors that created success at the various development phases of the company. While it is very important to have a clear strategy, we are truly of the opinion that you have to do many things right to have success. That means hard work and long hours. You can read all about it in the rest of this book!
Frederique Constant watches are first and foremost very classical. Over the years, various Frederique Constant customers asked us to develop a sports collection. However, we always saw this as a conflict with the strategy to create, produce and market classical watches. For us it was essential to stay consistent with the classical strategy. Then in 2002, we had the opportunity to acquire Alpina, a watch company founded in 1883 with a long history in sports watches. This acquisition gave us a vehicle for sports and lifestyle watches. 
Later chapters describe the extensive history of the "Union Horlogere", the company that created and registered Alpina in 1901. How this company was revolutionary with it's "Alpinist" concept of collaboration.  We have a mission to revive Alpina to its former glory as a world watch brand. It is work in progress. 
Atelier deMonaco was incorporated in April 2009 and is the third watch company in our group. Atelier deMonaco creates and produces high-end watch complications – a Minute Repeater, Perpetual Calendar and various Tourbillons. It is in this company that our most talented watchmakers can express themselves and gain experience while marketing their unique watch creations.  Atelier deMonaco is ultimately an implementation of our "Personal Development" Core Value.  
Aletta & Peter Stas
Seitenzahl

352

Höhe

31

Breite

23.7

Anzahl Abbildungen

Farb- und s/w-Abbildungen

Bindungsart

gebunden

Watchprint-Artikelnummer

11050
INTERNATIONALER VERSAND - Watchprint.com verschickt Bücher in die ganze Welt.

GESICHERTE ZAHLUNG - Sichere und einfache Zahlung mit SSL-Verschlüsselung in unserem Shop.

KONTAKTIEREN SIE UNS - Kontaktieren Sie zur Erstellung Ihrer eigenen Uhrenbibliothek oder für andere Fragen: info@watchprint.com