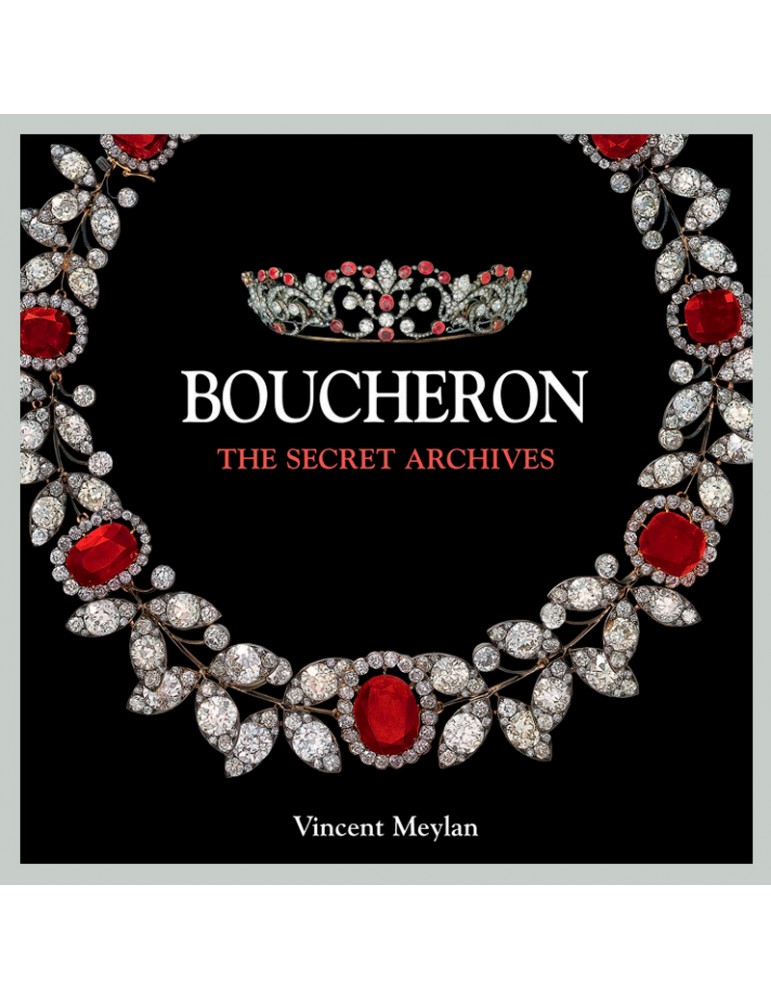  
Boucheron, the Secret Archives
Ouvrage en anglais 
Includes excerpts from the Boucheron 'Book of Stones' - an archive of every precious stone that has ever passed through the Boucheron safe, including the famous Donnersmarck, Wittelsbach blue and Polar Star diamonds
Each stone has a detailed description as well as a sketch and any history regarding its ownership
There is also a section dedicated to design sketches from throughout Boucheron's history
The House of Boucheron is one of the great Parisian jewellers of the last 150 years. Founder, Frédéric Boucheron opened his first shop in 1858. Many of his clients were not women of society, but femme fatales of the demi-monde. Nonetheless, his skill with precious stones and his absolute discretion made him a favourite of both courtesans and princes. In turn his business flourished allowing him to move to the famous Place Vendôme in 1892.
Having been given unprecedented access to the Boucheron vaults, the book's author, Vincent Meylan, made some remarkable discoveries. Perhaps the most significant was a register labelled 'Book of Stones'. It is a record of all the precious stones that have entered Boucheron's stock; diamonds, emeralds, sapphires, rubies and pearls are all indexed according to weight, price and, most importantly, who bought and sold them. Meylan also uncovered almost 200 order books and 150 letters. It is these 'Secret Archives' that have enabled him to reveal the fascinating history of Boucheron and his extraordinary, colourful clientele.
From the 'Ladies of Sin' to the 'King and Queens of the World' Meylan reveals the riveting stories behind the jewels that the Parisian jeweller sold; the desires they aroused, the madness they provoked, the love they formalised, and the deaths they caused. Boucheron's clients included Tsar Nicholas II of Russia, La Belle Otero, King Farouk of Egypt, and the Shah of Iran. The demands of these wealthy individuals led to the sensational orders that elevated Boucheron to highest level of creativity.
This captivating and revealing publication includes original design sketches, black and white archive images and sumptuous colour photographs of the exquisite Boucheron creations, including Tsarina Alexandra's pearl and diamond coronet and The Queen Mother's tiara.
Nombre de pages

300

Hauteur (cm)

27.7

Largeur (cm)

27.7

Illustrations

200 ill couleur et 100 ill. n/b

Reliure

relié

Langue

Anglais

Numéro d'article Watchprint

6378
LIVRAISON INTERNATIONALE - Watchprint.com envoie des livres à travers le monde.

PAIEMENT SÉCURISÉ - Paiement facile et sécurisé grâce au protocol SSL.

CONTACTEZ-NOUS - Contactez-nous pour la création de votre bibliothèque horlogère ou tout autre question : info@watchprint.com